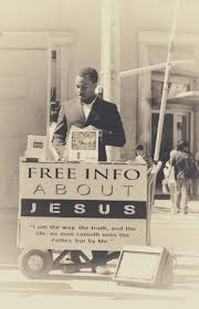 Toronto Gospel Booth Initiative
Our goal is to set up gospel booth's outside the Yonge and University TTC line to offer free
information about Jesus Christ to the downtown community. Through Christian Positive Space, a joint initiative with the Toronto Body of Christ, we hope to establish a Christian Positive Downtown Core and ignite the evangelistic furvour of the church.
Requirements:
1. Must be a Born Again Christian
2. Must subscribe to the CFM
Statement of Faith
3. Must go to a Church that is in agreement with the
CFM statement of faith
4. Must be willing to commit to a minimum of 1 shift 3 hours/week.
5. Must be willing to sign the agreement and accountability waiver.
You dont have to be a Pastor, Evangelist or a street preacher to get involved. You simply have to be willing to stand behind a booth and represent Christ by handing out a free Bible or information about Jesus Christ.
If you are interested, we would like you to get involved:
Please email: info@christianpositivespace.com or call: 647-781-5059
---